Overview
St Lucia (Post Code 4067)
St Lucia Property
Located on a peninsula reaching into the mighty Brisbane River, leafy green St Lucia is a drive of a little over 8 kms from Brisbane's Central Business District. With a population of 12,574 (according to the 2016 census), it is home to The University of Queensland – otherwise known, with pride and great affection, as UQ.
Main Service Roads
There are three major thoroughfares that line St Lucia. These are Swann Rd, Sir Fred Schonell Dr and The Esplanade and they all lead to UQ.
St Lucia for University in Qld
The demand for and 'attraction' of UQ, which occupies a large portion of the eastern side of St Lucia, keeps real estate rental values pretty much always above normal. Going hand in hand with the demand for properties to rent means that rental property vacancy rates are typically low, as noted by our experienced expert Property Management team.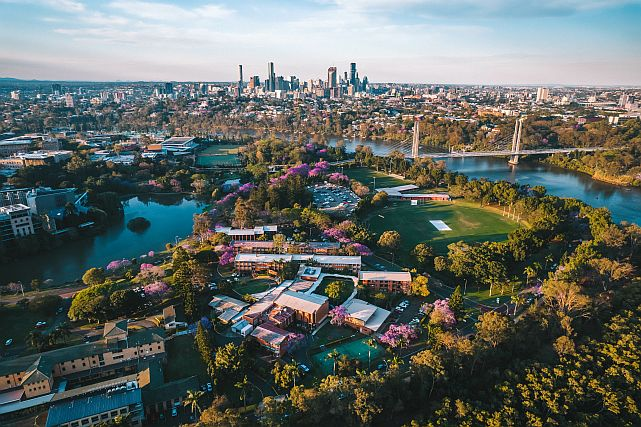 The student population alone, quite obviously, is high. However, public access is granted, with or without a fee, for use of some of the facilities at UQ. This access includes the use of facilities such as swimming pools and tennis courts. In addition, The Schonell Theatre in Union College presents shows with tickets available to the public for purchase.
Local Park Run Venue
An added attraction for tenants and owners alike in St Lucia is that is one of the locales for the popular 5km Park Run event. Every Saturday the run begins at 7am and adds a further appeal to the walkers/joggers/runners who live in and around this near city popular address.
Even spectators are welcome! Register first at the website, then on the day gather opposite the UQ Aquatics centre on Sir William Macgregor Dr. Have fun and get fit all at once!
Property Management Services
Our St Lucia Property Management experts have also noted St Lucia is favoured by deep-pocketed professionals and families.
North areas of the suburb
Some favour the flatter northern side of the suburb with its medium to high density and high-rise Brisbane River front apartments.
South West areas of the suburb
Other residents choose the south-west which borders with The Indooroopilly Golf Course. The beautiful Golf Course, together with its surrounding of premium Brisbane homes with a view, is the pull here.
Central and south
The low density, hilly, central and southern areas of St Lucia favour residential family homes.
St Lucia Golf Links
St Lucia does have its own golf course – the public 18-hole St Lucia Golf Links which also has 'putt-putt' or mini golf. It incorporates Hillstone – which is now a venue destination for weddings/events – and very popular The Hundred Acre Bar.
Hillstone history
What we at Property Management St Lucia find interesting is that Hillstone was built as a grand house in the 1880's. Then, 40 years later, it was converted into a clubhouse. It originally was home to The Indooroopilly Golf Club until that club relocated to Long Pocket in 1985. The area then became St Lucia Golf Links – a public golf course with its own reception area. Hillstone – that is the original clubhouse – is now heritage listed along with the Hillstone's Mango Tree.
Local Schools Provide Options
Ironside is a neighbourhood within St Lucia and is located to its west. It is home to the also heritage listed Ironside Primary School, which was opened in 1870. Secondary schools and colleges can be found close-by in the the surrounding suburbs of Indooroopilly and Toowong.
Heritage Listed Property in St Lucia
Other heritage listings in St Lucia that are a product of its history and add to its esteem include:
The Grand Court at University of Queensland and

Union College (described as the optimum home away from home study experience)

Vida and Jayne Lahey's House, Langer House.
Neaby Shopping Experience
There are several shopping precincts in St Lucia but it is mostly a residential suburb.
For more varied shopping needs, our Position One Property Management Team recommend the ever popular and major Indooroopilly Shopping Centre.
Also, the smaller yet worthy Toowong Village is more than adequately able to service tenants and owners who live in St Lucia.
Toowong and Indooroopilly are closely located convenient and popular suburbs. Renowned department stores, prestigious fashion outlets, cafe/restaurants/food courts abound along with favoured supermarkets and cinema options.
Your St Lucia Property Manager Team have found their proximity another draw-card for our rental clients.
Ample transport options service St Lucia property
Transport by water
Choice of transport in St Lucia includes two CityCat ferry terminals. Terminals conveniently located at Guyatt Park and UQ mean that each trip takes approximately 18 minutes to and from Brisbane City CBD
Cycle transport
Designated bicycle routes between UQ and Toowong mean cycling is convenient, fast and safe for students, tenants who live here and family members who own property in the area.
Train transport
The closest train stations servicing St Lucia are South Bank and Toowong, which are a little further away.
Bus transport
The normal bus services generally take 16 minutes each way to and from the Brisbane City CBD. Buses from the southern suburbs of Brisbane use The Eleanor Schonell bridge which spans directly across the river from UQ and connects to the suburb of Dutton Park. The bridge is open only to buses, pedestrians and bicycles.
Contact Us Today for Care of Your St Lucia Investment Property
Our Property Management Team at Position One looks forward to using their expertise to assist you realise the potential of your investment property. Click Here to phone now:
---
MORE SUBURB PROFILES